HE WAS BY ALL ACCOUNTS A MODERATELY SHY AND UNASSUMING MAN.
Slight of stature, he certainly was not a imposing figure as he walked quietly to the microphone at Amsterdam, Holland's Concertgebouw in the early 1950's, hesitated for a moment before placing the mouthpiece of his trombone to his lips, closed his eyes, then lifted the burnished bell of his instrument outward and over the standing room only audience.
As his first soft notes began taking form it was obvious to everyone present that this was no journeyman musician they were listening to. Not by a long shot.
This was a musical magician. A trombone magistrate capable of artfully crafting and sustaining a galvanizing, broad palette of shimmering sounds and colors, which were not only compelling, but evolutionary as well.
Suddenly the shy, unassuming minstrel who, moments before, had shifted his body several feet stage left to escape the hot glare of the spotlight, now had been transformed into a smiling, happy, handsome prince among men. The Concertgebouw's block-long stage became his imminent domain and no one knew better than he knew how to develop and sustain a radiant storyline, complemented by an array of elegant, bewitching twists, turns and tonal bursts; all of which elicited a very favorable audience reaction.
As his notes deftly weaved a pattern of undeniable beauty in and out of the ensemble work, he appeared to grow in stature even though he insisted on maneuvering his body into a graceful arc in an effort to give each note his sweet blessing before releasing them across a transfixed audience.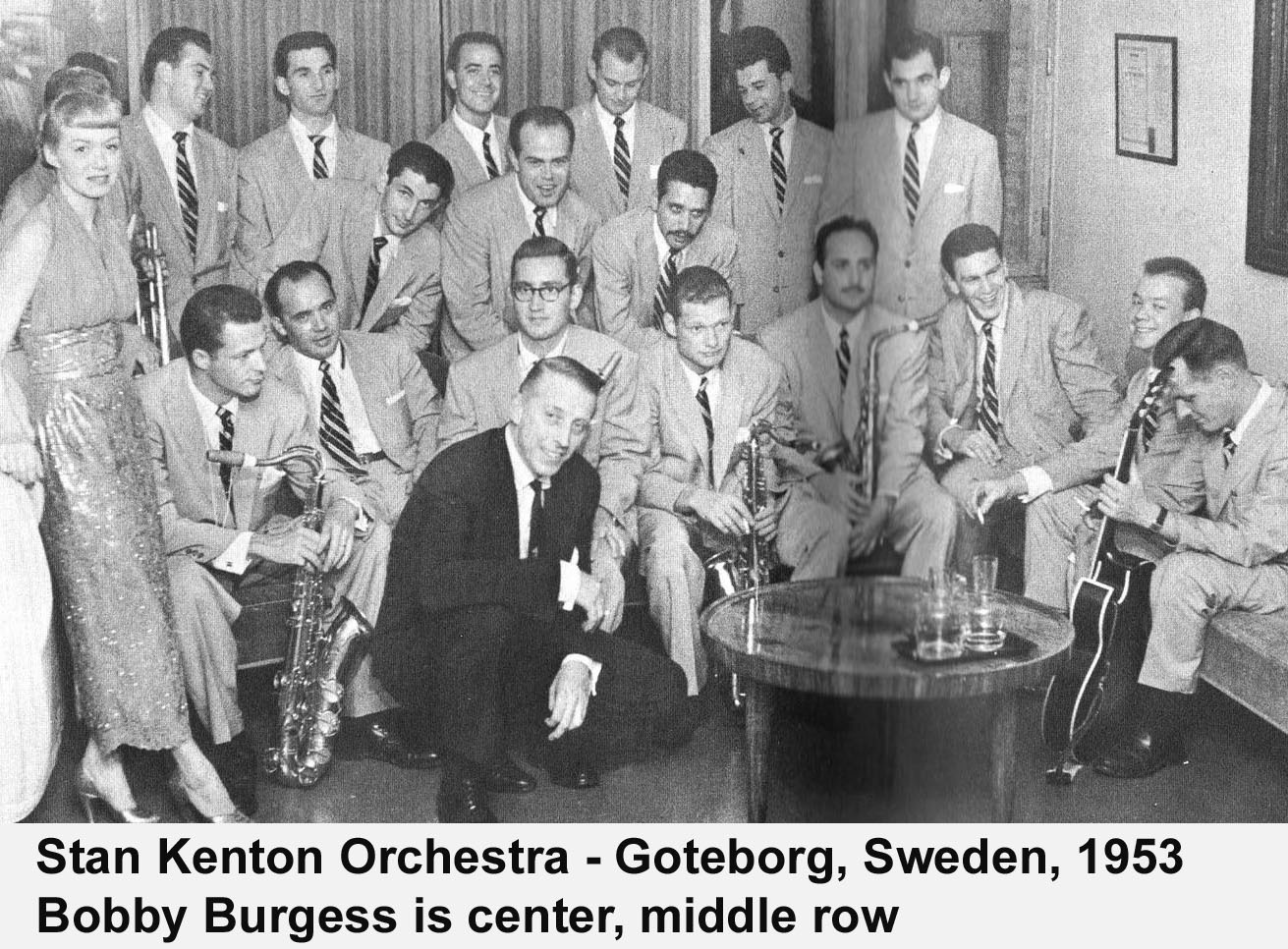 This was Bobby 'Butter' Burgess, lead trombonist with the Stan Kenton Orchestra during its triumphant tour of Europe in 1953, which featured such outstanding Kenton Orchestra players as Lee Konitz, Buddy Childers, Frank Rosolino, Stan Levey, Conte Candoli, Don Bagley, Bill Russo, Bill Holman and vocalist, June Christy.
A tour which will be forever etched in the annuals of jazz because it was the catalyst which forged a successful compromise between the British and American Musician's Unions and put an end to a long-standing, silly, politically motivated embargo against British musicians performing in the US and their American counterparts appearing in the United Kingdom.
Born in Centralia, Illinois on October 4, 1929, Bobby was teacher, devoted friend and mentor to a countless number of famous and near-famous players on such legendary orchestras as Kenton's, Woody Herman's, Dizzy Gillespie's, Maynard Ferguson's and the Thad Jones/Mel Lewis ensemble. In every section he was part of he ignited the brass work, adding immeasurably to the band's structural integrity by skillfully crafting a trombone sound that was unique to that particular unit.
Jan Foerster in his finely detailed liner notes for a 1985 CD Bobby performed on and produced in Germany entitled: 'Butter's Idea,' commented that "Fellow musicians gave him the nickname 'Butter,' because of his smooth, voluminous and expressive tone which could sometimes even be described as 'fat'. His agile soloing derives from an impressive disparity between sustained wind-tones opening up wide horizons and terse rhythmic figures."
Ron Simmonds, who writes for jazzprofessional.com in England in a recent letter to Butter's daughter, Leslie, remembered him this way: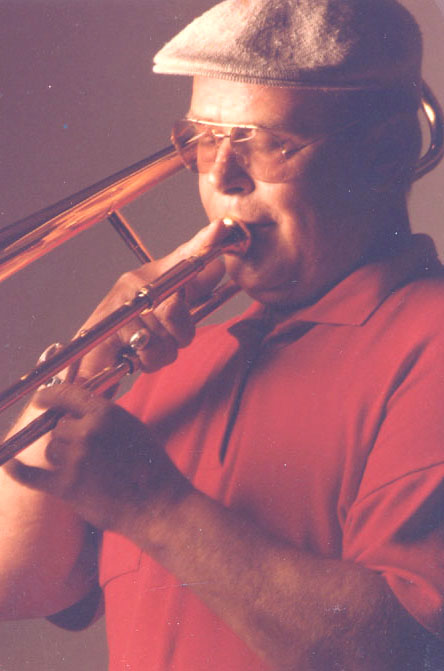 "By the time I met 'Butter' I had already been greatly influenced by him, by Buddy Childers, Maynard, Frank Rosolino, Bill Russo and many others - Stan Kenton, too. I also worked later on with many of them. We were not allowed to have American musicians in Britain for a long time, so we did our best by listening to all the records that were issued in the States. Vic Lewis had a lot of tapes made while the Kenton band was on the road and we listened to them, sometimes doing so all night.
"Of course everyone admired Bob - that one recording he made of 'Over the Rainbow' ('Sketches On Standards,' Stan Kenton 1953) has gone down in history, together with Conte's solo in 'Pennies From Heaven' and many other delights the Kenton Orchestra gave us. People also still talk about the Band's recording of 'Fascinating Rhythm' - Bill (Russo) told me they made about fifty takes before they were satisfied. Hard to credit, but Bob verified that. He played that solo in 'MacArthur Park' with Woody's band and asked me later on to write a score as close as I could get to that one.
"I worked in Germany from 1963 to 1993. I was in Munich, Berlin and Saarbrücken, but I played with Bobby on many occasions. I first met him when he came to Berlin in the late 1960s with your brother, who was in Europe. I loved your father, not only for his trombone playing, which I'd admired for years, but for his wonderful personality.
"Later on he started playing with Erwin Lehn's radio band in Stuttgart and Ack van Rooyen and Rolf Ericson, two trumpeters in that band, had some hilarious stories of Bob's attempts at speaking German. It was with that band that Bobby recorded my score for him of 'MacArthur Park'. A most beautiful solo. We worked together in Peter Herbolzheimer's band quite a lot, and did a tour of Germany accompanying Shirley Bassey in the early 1970s."
It was during the time Bobby shared the trombone lead with Bob Fitzpatrick, another outstanding Kenton alumnus, on an early 1950's Kenton Orchestra unit that they not only became seatmates on the bandstand and bus, but soul mates as well, which led to a lasting friendship of over two decades.
Their styles, tone and phrasing were so similar only a trained professional ear could determine where one began and the other left off. It was during these early, formative Kenton Orchestra years that '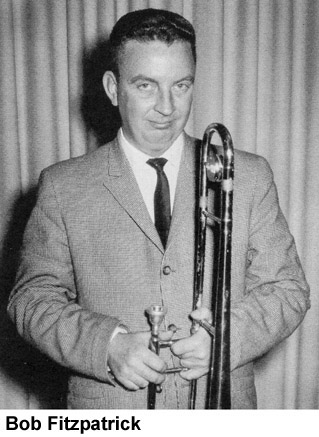 Butter' and Fitz further defined what has now become known as the famous signature trombone 'sound'.
Mike Suter, who played bass trombone with Kenton during the 1970s said that 'One of their most profound additions was what's called a 'breath attack'. Using this technique in the context of a song, virtually always a ballad, repeated notes were not tongued in the traditional manner, but just 'pushed along' with an added surge of air. The best example of this occurs in 'I'm Glad There Is You' from Kenton's 'Romantic Approach' album. In the beginning trombone soli the first note is tonqued in a traditional manner, but the second and third notes are played with a breath attack. It's a very effective musical statement -- unique to the Kenton Orchestra. It came from the fertile minds of Bobby Burgess and Bob Fitzpatrick.
Together they also changed the dynamic (or volume) balance of the trombone section. In dance bands the lead (or first) trombone always played quite a bit louder than the rest of the section. This was done to carry the melody and provide a simple harmony so dancers would have something steady to keep them on the beat. But in a jazz situation -- Kenton in particular -- this was neither needed nor wanted.
Therefore, as a regular practice, Bobby and Fitz had the other trombones play at the same volume they did. And because of the nature of some of the writing, they often asked the bass trombone or tuba to play louder than they,
This was a dangerous thing to do.
A famous orchestra conductor once said: 'Never look at the trombones. It only encourages them.'
Regrettably, Butter's trombone brilliance and effortless ability to completely alter the brass sound of some of the most exciting big bands of our generation came to an end on June 9, 1997. He was buried beside his parents in his hometown, Centralia, Illinois.
Fortunately his legacy lives on in an impressive and expressive array of albums, which showcases his distinctive sound and his avowed determination to always reach for the stars.
He will be forever missed.