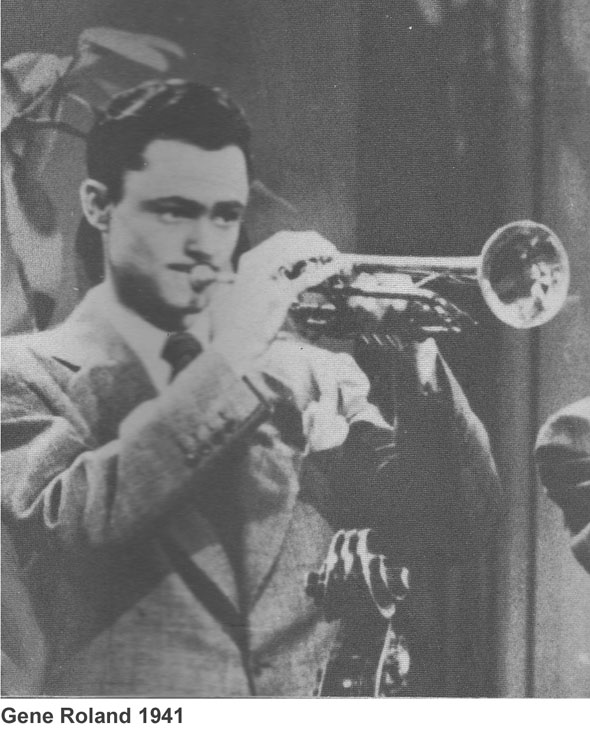 Gene Roland, without a doubt, was one of the most skilled, inventive and underrated arranger/composers ever associated with the Kenton Orchestra.
Born in Dallas in 1921, Roland was the master of the riff. Often referred to in the black-oriented bands as the 'lick.' Although simple in format and easy to follow he engendered his creations with an extraordinary grasp of how and when to open-up the ensemble work.
Educated at North Texas State Teachers' College, where he majored in music from 1940-42 and roomed with Jimmy Giuffre, he first joined the Kenton Orchestra in 1945 where he played 5th trumpet and contributed dozens of arrangements. He worked briefly with Lionel Hampton and Lucky Millinder and then rejoined Kenton in 1945, this time as a trombonist and writer (he arranged the hit "Tampico").
An accomplished jazz pianist he wrote for a group in 1946 that included Stan Getz, Zoot Sims, Jimmy Giuffre and Herbie Steward that eventually led to Woody Herman's famous 'Four Brothers' Second Herd in 1946. Interestingly Guiffre credits Roland with the basic structure of Woody's hit, 'Four Brothers,' which Jimmy emulated and elaborated upon.
During the late 1940s, Roland played trombone with George Auld, trumpet with Count Basie, Charlie Barnet, Lucky Millinder and contributed charts for the big bands of Claude Thornhill and Artie Shaw. After leading a giant rehearsal band in 1950 that included Dizzy Gillespie and Charlie Parker he once again joined Kenton in 1951. In 1956-58 he contributed more than 65 arrangements to the Woody Herman Orchestra, along with being very active with the Count Basie Orchestra.

Roland was a major force in Kenton's Mellophonium Orchestra of the early 1960s; not only writing for the ensemble but performing as one of the solo mellophonists; he also occasionally doubled on soprano sax with the Orchestra, which led to one of Stan's most successful albums, 'Adventures In Blues' (1961).
Like Willis (Bill Holman) he delighted in taking huge megaton blocks of sound and cleaving them in all the right places so they had a precise amount of buoyancy and appeared to float to along the time line. Roland, often to Stan's dismay was also hell bent on swinging the Band. In fact, there is a trunk somewhere that contains all the rejected charts Gene wrote which Stan felt sounded much too much like material done for the Herman, Rich & Basie Bands. All of whom the very eclectic Roland contributed to while whipping off charts for Stan.
Capable of playing any & all of the instruments, he worked closely with Stan to continually change the instrumentation of the Orchestra. It was he who was responsible for adding a fifth trumpet (two of which would share the lead & high work) & a fifth trombone. Later he suggested using three tenor trombones which valiantly drove above two bass trombones, ultimately leading to one of the basses doubling on tuba. Stan & Johnny Richards may have hit upon using the mellophonium and handling all the grunt work to make them work, but it was Roland who gave the mellophonium great buoyancy and range and proved what a lyrical instrument it could be in the hands of someone who knew exactly what they were doing.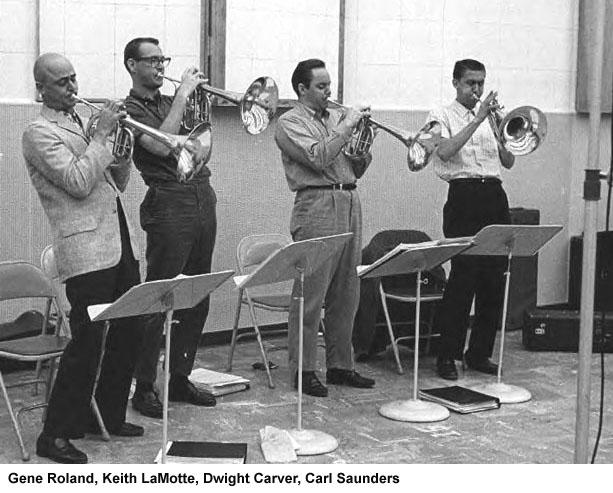 Unfortunately, only Gene and later, Ray Starling, were to the instrument born. The rest of the horn players were frustrated journeyman trumpet players biding their time for an opportunity to slip into one of the Samurai warrior trumpet chairs.
Blessed with perfect pitch Roland could, (and did) write without the aid of a piano whenever the mood struck him. On and off the bus!
Completely and totally irresponsible he constantly lived on the edge and was forever being chastised for leaving his instrument behind on the stand, never having any money, sneaking women aboard the bus and fueling his system with a smorgasbord of pharmaceuticals. Roland was the only member of the Orchestra that Stan turned a blind eye to when it came to inhaling & injecting drugs. Don't forget he and Gene went way back to the earliest days of the Kenton Era. Although they were never terribly close Stan had an affinity for Roland which transcended Gene's many transgressions.
Roland lived for jazz. Night & day. It was his passion. It was the guiding force which kept him going. Unquestionably a musical savant, he had a difficult time handling such mundane things as tying his shoelaces, feeding himself, balancing his checkbook, paying his bills. Next to music the only thing he was proficient at was bedding down an array of women who were drawn to him like Jesus freaks to a new religion. Yet, it was his over-the-top lifestyle which enabled him to write with such broad strokes and flowing colors.
Long underrated, he would get quite a giggle out of the fact an entirely new generation has gloomed onto his 'Adventures in Blues' charts. It would also amuse him that so many of his manuscripts are used as teaching aids in the major universities. Then again, like Willis, being able to write as well as he did he considered no big deal. He long labored under the delusion that everyone was capable of doing what he did.

It was this self imposed modesty, coupled with his one of a kind talent that made him so special and such an integral part of the Kenton Orchestra.
He died in New York City in 1982 and was survived by his wife, Charlotte, and two children.