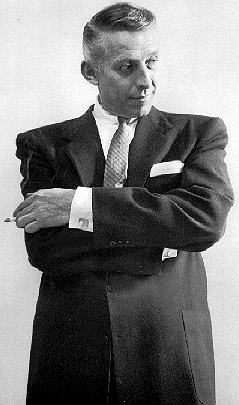 When Stanley Newcomb Kenton died in his 68th year at a Hollywood hospital last week he was like a lion in winter defiant in his going but well beyond his prime.
During the late 1940s and early 50s, Kenton's orchestra was the biggest jazz attraction in the world. Though he kept his sound evolving and his band traveling, Kenton spent the last decade of his life careening around the continent, still making converts but occasionally reduced to playing one-night stands at shopping center openings, musty nightclubs and other neon snake pits on the American road.
He lived for 38 years on a band bus, suffering the vagabond's indignities of little sleep and bad food, drinking a million cups of tepid coffee and eating all that stale Danish, dealing with the greedy souls of scruffy promoters while having to prop up musicians trying to dredge new sounds out of exhausted psyches.
His humor never deserted him. I was once aboard his big orange bus when he wouldn't allow it to start until 'Cecil' was back on board.
"Who's 'Cecil'?" I asked.
"He's the giant horsefly who's been with us for months. Why, he's crossed the country on this bus."
"How do you know it's a male?"
"Because his name is 'Cecil'. Did you ever hear of a chick named 'Cecil'?"
What made his grueling schedule bearable were the nightly concerts when the old man would bound up on the bandstand, shout "Let's go!" at his 18 musicians, strike an imperious triad on the piano and bring in the trumpet section with a chop of his right elbow. The magic of the music would melt away the years and he would become a proud young buck strutting his stuff. The rich Kenton sound would descend on its listeners like a hailstorm.
What Kenton demanded from his musicians was that they broaden the harmonic, rhythmic and structural boundaries of the band's arrangements so that each composition would trigger their individualistic ruminations. The best of them would grope for a melodic line, pursue it, then explore and soar with it, like astronauts gliding in the moonlight.
The best of the Kenton scores sound as if they might have been torn out of a late Dostoyevsky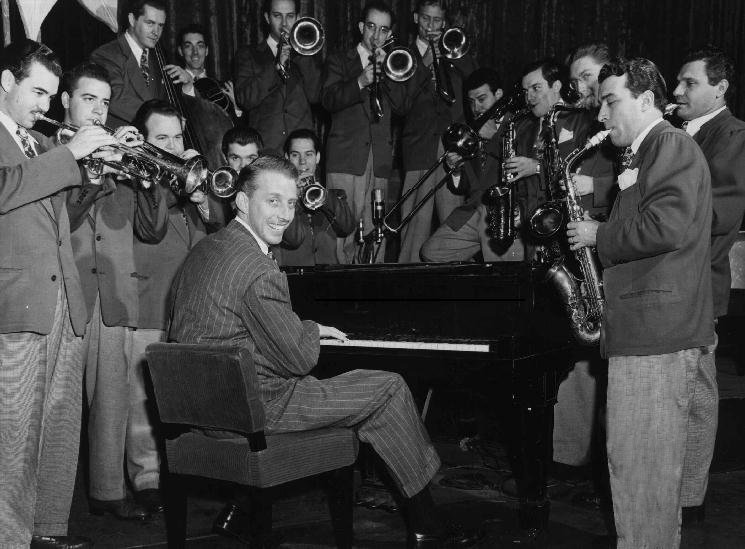 novel, showcasing the bravura fanfares from his 10 men of brass counter-pointed by the deep-mouthed empathy of the smoothest saxophone section in the business. His own brooding piano solos, all slides and whispers, had a smoky, three-o'clock-in-the-morning quality about them. He could transform Stephen Sondheim's 'Send In the Clowns' into a lyrical comment about contemporary social values; his version of Dee Barton's brooding arrangement of 'Here's That Rainy Day' became a tone poem, its chord structure as poignant as the touch of lovers' champagne glasses.

Kenton's many critics claimed his concerts were about as spontaneous as a cathedral mass. The satirist Mort Sahl captured his tendency toward the pretentious with the line, "When Stan Kenton spills a cup of coffee, he doesn't say ''Somebody help me clean this up.' He says, 'Look, I have created a mess!'"
It certainly wasn't music to make love by, and it didn't always swing. "There are many more emotions that can be portrayed and felt in jazz than just swinging," Kenton maintained. "For some reason the critics haven't been able to communicate with my band. But I don't worry about it. Most of that crap I just let go in one eye and out the other."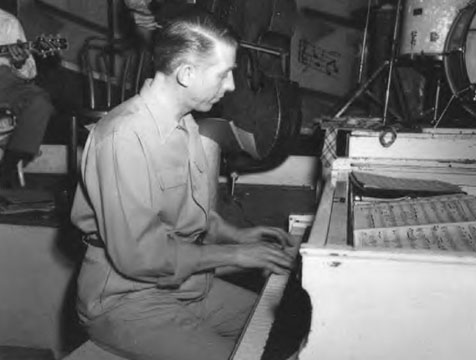 The orchestra's final incarnation was a powerhouse of sound, pioneering time signatures seldom used in jazz to give the music hard-edged, unpredictable syncopation. In a number called 'Ambivalence', for example, the band switches from a complex 5/4 cadence to a goading 20/16 tempo, then back again. He exploited the abstractions of his artistry timing, harmony, phrasing to define big band jazz as a hot, existential music with a touch of class.
Kenton's followers were fervid in their loyalty, gladly driving 500 miles to hear a concert, attempting to outdo one another with their knowledge of Kenton lore. They would revel in swapping such trivia as the name of the Catholic member of the trumpet section who crossed himself before taking the altissimo solo on 'Artistry in Boogie' during the band's Sept. 20, 1953, concert at the Theatre Royal in Dublin. (It was Conte Candoli.)
Stan Kenton's main legacy is his 137 albums. They encompass just about every musical form known to man, including his versions of Wagnerian opera. An equally important inheritance are the numerous young musicians he inspired at the jazz clinics he held at universities and high schools.
The roots of the musical art form Kenton helped create are dying with him. Duke Ellington is long in his grave; only the orchestras led by Woody Herman, Count Basie, Maynard Ferguson and Buddy Rich survive on the road. Soon merely the ghost bands will remain, modeled on the Glenn Miller aggregation, whose leader vanished over the English Channel nearly six decades ago.
For those of us who followed his career and admired his music, the Kenton sound will never replace the Kenton presence. His passing marks not just the close of a musical era but a kind of death in the family. "What we play is life," Louis Armstrong once said about jazz, and that was exactly the affinity we felt with Stan Kenton's music its luster and eloquence, its rage and its unfulfilled promise.