TEACHING KIDS THAT JAZZ IS VITAL AND ALIVE
The energy level in the University of South Carolina Band's barnlike practice studio is higher than a Maynard Ferguson trumpet solo.
Despite the earnest, Emile Coue-flavored plaques that are posted everywhere, exhorting the students to 'Do Better!' the University of South Carolina 'Silver Spurs' aren't.
USC's first string stage band three times has lumbered into a funky, medium tempo blues called Beeg Mama Cass and three times has been flagged to an embarrassed halt. "You're playing too stiff," admonishes a visiting trumpet player, "almost cornballish."
"You're not crisp enough, especially you saxophones," chides a guest solo player.
"Let's face it," asserts the guest conductor. "It had bad character coming from it."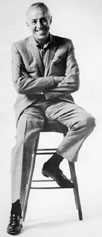 And with that, Stanley Newcomb Kenton unwinds his lanky, six-foot four-inch frame from a stool, strides to center stage and, after giving the band a typically deep-throated, Kentonish chord shouts: "Now let me hear the energy!"
With all the intensity they can muster, the Silver Spurs respond. But Kenton wants more: His arms rising slowly until his body turns a 'Y', he implores, demands, shouts for more power, more force, more volume, more energy --and gets it. Then, at the roaring crescendo, Kenton wheels around with a characteristic sforzando, his angular face breaking into a euphoric smile as he holds out for all to see, the very tips of his bony fingers, all that pulsating energy.
Energy. That's what Stan Kenton has been shouting forever since his first orchestra blasted through the first chorus of, say, Artistry in Rhythm in Balboa's Rendezvous Ballroom back in 1941. Energy, power, and force in the service of creative musical iconoclasm. Amazingly, in the 30 years between Balboa and Columbia, SC, Kenton's 'Balboa Bandwagon,' for its dozens of transmutations, has never been seriously detoured, broken down, or just plain run out of gas. The more Kenton has changed, the more he has stayed the same -- vital, adventurous, aware. Like Wallace Steven's archetypal poet, Kenton has become " . . . the giant ever changing, living in change."
"I don't think there's any place in the world for static, dead things," Kenton declares in his breathy, resonant baritone that's been honed by roughly a million introductions and a lifelong addiction to Camels. "I think anything that's vital has to be creative and alive."
The most recent result of that deeply felt credo is that Kenton, at 60, has put together one of his very best bands. Technically impeccable and totally disciplined, these 19 musicians attack their music with a passion and a cohesiveness born of one-night stands in Bemidji, MN and Provincetown, MA, and polished to a high gloss during a 10-country, 28-city European tour in January and February.
You can hear for yourself on two two-record albums produced in the last year and a half by Kenton's own Creative World Records. That both albums were recorded on college campuses -- Redlands in California and Brigham Young in Provo, Utah -- was no accident. Kenton has devoted more and more time in recent years to his crusade to broaden music education to include Jazz, as well as making available at cost many of the arrangements from his own book.
More recently it has led to the creation of what Kenton, in his slightly grandiose way, calls 'The Jazz Orchestra In Residence' program, through which his band last year conducted clinics and performed at 180 colleges and universities. And it was through the same program (plus $7,000) that the Kenton Band pulled into Columbia, SC for an intensive two-day clinic and concert.
"The purpose of bringing Kenton here is to introduce contemporary kinds of jazz to a lot of kids who've never heard it before," explains Ralph Wahl, USC director of bands. The eight student bands underwrote the clinic and concert, helped by a $2,000 grant from the South Carolina Arts Commission.
This afternoon's clinic dismissed, drummer Jerry McKenzie enthuses over the students while he knocks down his drums. 'They're fantastic. Most of the time they want to know how to mold with the band or how to play the fills. I stress to them to learn the mechanics and then go out and use them. Get the experience, I tell them: Do a now thing.'
McKenzie is living proof that the theory works. He has rejoined the Kenton Band after a nine-year lapse as a policeman in and around Detroit. Ingenuous and intense, McKenzie has a disconcerting habit of totally locking in on you, giving over his entire concentration to whomever he's talking to. The habit carries over to his drumming, during most of which he seems to literally transported. 'Well, yeah, when I play I play with as much intensity as I can," McKenzie says, fixing me in an absolutely unwavering gaze. "The bassist, John Worster, sets the time. I police it."
"We're opening up a whole new thing for so many of these kids," says Worster, 37, who also just rejoined Kenton, after four profitable, but unrewarding years in Las Vegas. "They're discovering not just our band but they're learning about better music. They're finding there's something more than the animal thing of rock and roll."
Several high school students and band directors endorse Worster's point. Typical is Forest Ray, a band director who brought six of his best students up from Sumter, SC. "The kids are just overawed," says Ray. Most of them have never hear live music at all except for maybe a rock and roll or a country-western band. They'll be walking on air from now 'til the end of the semester.
'THEY LOVE IT'
The following day the Band's arrival is announced by bearded, ebullient trumpeter and road manager Mike Vax. A minute later Kenton appears, trailing an authoritative, purposeful aura and 17 relaxed musicians who immediately begin setting up for a mini-concert. Kenton is clearly elated about his current band and his prospects for this clinic. These clinics are fantastic. I think they're the most important work we do," Kenton says. "They're especially hard on the fellows in the Band, since they're the one's who do most of the teaching., but they love it. I think that bringing a band, a professional big band like ours, right into a school and letting them play is what the kids really need and want before we start talking about technique or improvisation.
Thus, less than half an hour after its arrival the Kenton Band begins what is supposed to be a 45-minute set for a standing-room-only crowd of some 300 students and teachers. Kenton himself opens the concert by stating the saccharine Theme from Love Story at the piano, and a USC bandsman sitting next to me whispers, "I hope they kill it." They do, but not before they slash away at it -- first trombonist Dick Shearer leaves a flapping rent it -- and in the process transforms the slender, sophomoric theme into something more substantial. Still, the band sounds a little unbalanced, as if it's angry at being roused out of a sound sleep. Next it goes through the motions with Jim Webb's ballad Didn't We, arranged by Willie Maiden, and then everyone suddenly comes awake simultaneously during another Webb song, MacArthur Park, arranged by Dee Barton.
It features some lovely, muted trumpet figures by 25-year old Ray Brown, brooding over the band's almost inaudible a cappella singing of the lyrics. Then drummer Jerry McKenzie quadruples the time and propels the five trumpets and five trombones through an ensemble passage that leaves jaws agape and a tingling in the hair on the back of your head. This is big-band jazz at its very finest: first quiet lyricism and then roaring passion. This band is like a decorous rapist who will have his way with you but is going to hang up its pants beforehand. The set by now well over an hour old, crashes to a close with Bill Holman's fiery Malaga, which brings the students to their feet with cries of "Right On!" and "Outtasight!"
EAGER TO PLAY
It's a neat bit of psychology: Now the young musicians can't wait to get at their instruments. So the clinic begins in earnest, Band director Wahl sends the 17 piano players and guitarists into the main music office, and the 30 drummers trundle off to an adjoining building with Jerry McKenzie. Several dozen saxophones follow the Kenton reed section upstairs, the trombones and trumpets find one another, and Kenton heads for Wahl's office to confer with perhaps 15 high school and college band directors.
Courteous and unpretentious, Kenton parries the inevitable silly questions ("What ever happened to Alec Templeton? What do you think of Peter Nero?") to get a crack at the ones that matter: "I just don't hear jazz anymore except on my record player," observes one high school music teacher. "Why not?" You might as well ask Billy Graham about all this talk that God is dead.
"We're all victims of what we hear and see on radio and television," Kenton declares with obvious conviction. "And you don't hear jazz on radio and TV because somebody on Madison Avenue or at Cashbox or Billboard (magazines) decided it wouldn't see soap. But there's plenty of proof on high school and college campuses that there are talented young people and good music. If it's an underground movement, it's huge."
CRITIQUING SESSION
Saturday is sunny and blustery. The clinic resumes with a critiquing session of the 'Silver Spurs,' who are tense and out of time under the close scrutiny of the Kenton Band and 200 other intent student musicians. "Well, you've got a problem with time," observes Kenton first-chair trumpet Jay Saunders after their first herky-jerky number. "But don't feel bad," he adds, "'cause sometimes so do we." Saunders' colleague Dennis Noday has detected another, correctable problem. The Silver Spurs' director has been silently mouthing time to the band as if conducting liturgical music. "I think they'd get off a lot betters," says Noday as he trades places with the instructor, "If you did it like this: ONE, TWO, THREE, FOUR!" Noday yells and the band fairly leaps into action as one.
The unquestioned star of the day-long clinic is Kenton's arranger, composer, baritone saxophonist, and creative alter ego, Willie Maiden. A painfully thin man in his 40s who is still plagued by pimples and a cowlick, he mesmeries his student audience with an eloquent lection on the elements of jazz. "Improvisation is the well of life," Maiden tells them. "It's how we express ourselves when we finally get the opportunity to do so."
By way of demonstration, a septet of Kenton soloists rambles through a relaxed and eventually Dixie-flavored How High the Moon that begins in a bebop vein. "There were approximately seven rocket ships who found that the moon was a different high," Maiden comments afterward. "But they all got there at the same time. We played that many nows in the last few thousand nows. Jazz is all about now."
It is precisely Stan Kenton's preoccupation with 'the now' that has kept him a powerful influence in modern music: It also is the reason why he's slightly reluctant to talk about the past over lunch. But once he begins he ranges lucidly over some of the most illustrious names in jazz during the last three decades, many of whom are alumni of the Kenton Band.
RECOLLECTIONS OF YOUTH
But his recollections aren't limited to jazz: He remembers being thrilled as a little boy by a swinging trumpet choir that played the hymns at Aimee Semple McPherson's Los Angeles temple. And then there are the traditionalists whom he admires for their talent and iconoclasm. "I remember hearing Heifitz play as a young man, and I thought his fiddle was to explode," Kenton recalls. "God, what energy he had."
And what of the state of modern music? "Rock," Kenton says, "represents for the most part an element that doesn't think the world is worth saving." But the recent amalgam of jazz and rock is healthy, Kenton believes. "I don't think rock musicians knew much about jazz until 'Blood, Sweat & Tears' came along," he says. "They've probably done more to boost jazz lately than anybody else."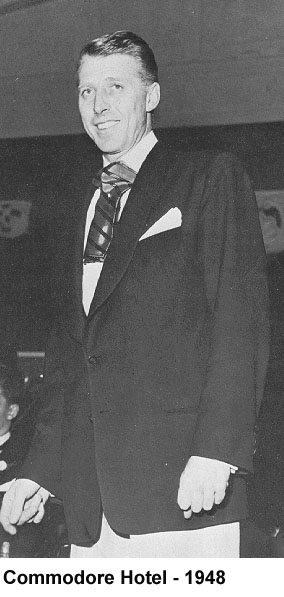 Then it's concert time. Only about 2,500 townspeople and students huddle together toward the front of the university's 13,500-seat basketball arena. But the Kenton Band doesn't interpret the turnout as paltry, and it's quickly obvious that those who came will be more grateful than critical.
The Band begins in perfunctory, precise fashion but suddenly catches fire as trumpeter Ray Brown interpolates a wry passage from Who's Afraid of the Big, Bad Wolf? into that old staple, Eager Beaver. After that the musical textures deepen and intensify: Now rampaging, now quiescent, here filling the auditorium to the rafters, now trickling down to shoe-top level. Fluid music. Vibrant music, Kenton's music.
Finally, as an encore, Kenton's theme: Artistry in Rhythm. It begins with a lovely acappella piano solo by Kenton that explains why he's still here at 60, with this creative and vital band. Artistry in Rhythm, like its creator, has changed, evolved. It is more assertive than ever, but also more cerebral, more melancholy. The reeds gracefully take up the melody, playing against burst of ensemble embellishment by the trombones and trumpets against pulsating Latin double-time. And there again is Kenton in the last chorus, urging, imploring, shouting for yet more power, more force, more volume, more energy.