It's just a couple of paychecks shy of 20 years since that explosive night of June 6th, 1941, when Stanley Kenton and his 14-piece orchestra played its first gig, blowing the roof off the Rendezvous Ballroom at Balboa.

The anniversary itself will find the newest Kenton band, 23 pieces including the maestro, playing a concert in Ohio as it wends eastward via bus and one-night stands after a notably successful premiere engagement at the Riviera Hotel in Las Vegas.
For all his twenty years, Kenton has been one of the towering figures literally (he is six feet four) and figuratively in contemporary American music, and this present milestone provides a pleasant occasion to review the Kenton years.
Born in Wichita, Kenton was 29 when his band made its Balboa debut, but he had already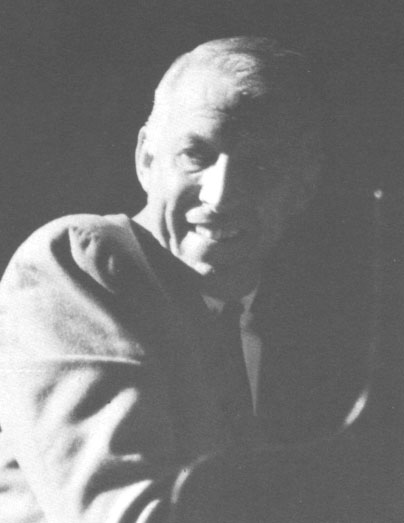 served a long musical apprenticeship. From Bell High School here in Los Angeles, he graduated into five dollar-a-night servitude as a speakeasy pianist, played all over the southwest in a succession of combos, became pianist-arranger for various big bands, including Gus Arnheim's, studied musical theory and ultimately did scoring and conducting for radio, a nightclub and movies.

The genesis of his own band was not to make a fast buck but to express his own musical notions, and this emphasis on ideas instead of profit has remained with (in fact, haunted) Kenton ever since.

"I've made some bad judgments," Kenton said recently. I've lunged too far ahead. I've been told, and I believe it. that if I had stayed with 'Artistry in Rhythm,' we would have had the biggest commercial success of any band the country had ever known. But we went to 'Progressive Jazz', 'Innovations', 'Contemporary Concepts' and so on. We kept burning our bridges behind us too fast."

Indeed, any analysis of Kenton begins and ends with the fact that lie has never compromised in the interests of commercial success, that he has held to his interest in new ideas, sounds, rhythms, even if it has cost him a large segment of his fans.

The Kenton band made its debut at the peak of the big band era in the United States. Presuming a musical continuum that, reading from right to left, extended from Lombardo via Miller and Dorsey to Ellington, Kenton in 1941 was out beyond Ellington, probing the frontier of big band jazz sound.

The Kenton music, with its intricate rhythms and inventive chords (using flatted fifths and ninths long before bop) was as arresting as a siren at midnight, but the driving intensity and the flashing solos left no doubt that the band was in the great jazz tradition. The west bought the sound instantly; the east, evidently Lombard oriented, was slower to come around. The band's first big eastern date, in early 1942 at the Roseland Ballroom in New York, was almost fatal. Neither the proprietors nor the critics dug, like at all. But cooler heads prevailed and the band survived.

Kenton, as cerebral a band-leader as popular music has ever had, has admired to give his sounds titles. He called the first sound "Artistry in Rhythm," and he stuck with it for almost seven years. Then, although the band was going great guns (and its vocalist, a Chicagoan named Shirley Luster and renamed June Christy, was singing up a storm), Kenton broke it up, spent a half-year conjuring a new sound and called it 'Progressive Jazz'. It was as if Kenton had heard other bands catching up with him and had determined to move further out. The rhythms were wilder, the voicing of the sax and trumpet sections more frenetic, the melody and the beat more obscure.

From Progressive Jazz, Kenton pushed onto 'Innovations', which is to say, still further out. His music, Kenton said, reflected the tensions and anxieties of contemporary society. Some critics agreed, to the extent that hearing the music left them tense and anxious. The new band was augmented with acres of fiddles, oboes, French horns and bassoons, and they played twenty-minute tone poems such as Bob Graettinger's 'City of Glass', which left even some of Kenton's own sidemen nonplussed.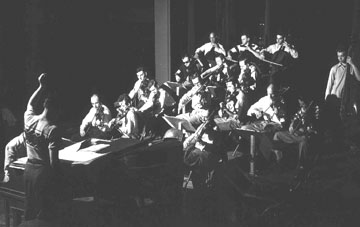 If Igor Stravinsky and Darius Milhaud had seemingly been working to bridge the gap from classical music to jazz, Kenton seemed to be working on the same bridge, proceeding from the jazz side of the crevasse. The music often seemed to be a series of crashing dissonances, linked by wispy and elusive legato passages. The trumpets wailed as they had rarely wailed before, and the trumpeters wore trusses as preventatives against a new occupational hazard. Europeans admired the music rather more than Americans did and Bob Graettinger, who died of cancer a few years ago, has received more acclaim abroad than he ever did at home. Kenton, who fought hard to get Graettinger's compositions recorded, is still not sure what posterity's verdict on this difficult music will be. "it takes a long time to know if a piece of music is any good or not," he has said, adding that, if a piece of music is an artistic success, it will be A commercial success also, even if it takes a long time for the commercial success to catch up."

Through 'Innovations', 'Contemporary Jazz' and beyond, Kenton and the band continued to win polls, but they seem in retrospect to have been K's for effort rather than A's for accomplishment, and it is clear that Kenton, forging too far ahead, had left much of his audience behind. It was also true that the era of the big band was long gone. The decline of the band had been neatly symbolized by the rise of Sinatra from near-anonymous singer with Dorsey to star singer for whom any band was only the accompaniment. Instrumental music came
to be dominated by the small combos playing bop and beyond. At least some of the music these groups played had been anticipated by Kenton, in terms of rhythms, chords and generally cerebral approach. But the small group music of the late fifties also had an excitement which the Kenton sound of that era seemed to lack.

Then, last Fall, Kenton began assembling another new band and a new sound for it to play. To the standard big band instrumentation, he added four mellophoniums, which vaguely resemble unbent French horns and which fill the tonal gap between the five trumpets and five trombones.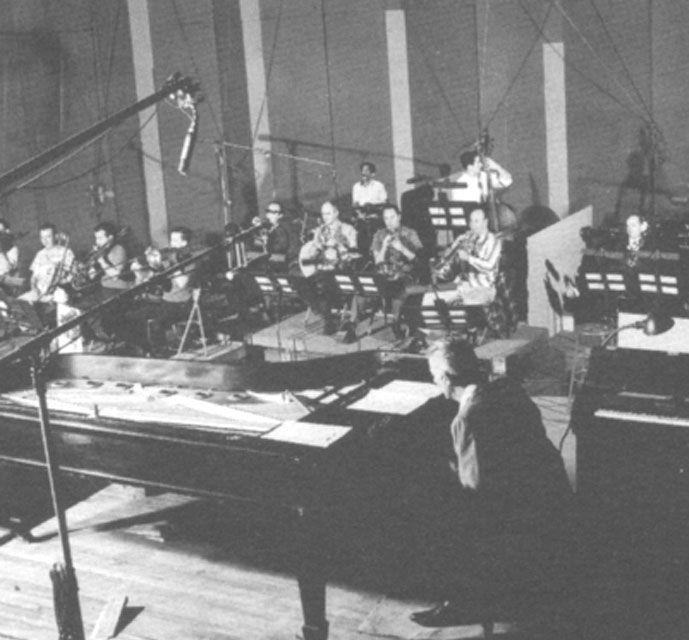 Kenton, working night and day, wrote a number of new charts, or arrangements, for the augmented band. Some of the tunes were originals, others rescored longtime Kenton favorites like "Intermission Riff" and "Mexican Jumping Bean." The band had been made possible by a husky cash advance by Capitol Records, for whom Kenton has recorded since 1944, against royalties for six new albums. Two months ago, the band assembled in a sound stage at the Samuel Goldwyn Studios at Formosa and Santa Monica to do the albums, one of Christmas songs, another of the score of 'West Side Story' and a Jazz album scored entirely by Gene Roland. I can report than Kenton's "Twelve Days of Christmas," unsyncopated and brilliant, will make for the liveliest holiday season in years.

In late March the new band made its public debut in the Las Vegas Riviera Lounge. The Lounge was jammed for the first show, the turn ways stacked four deep at the artful fenestrations. Even at the late, last show, when the entertainers often outnumber the lonely drunks and the luckless hustlers, the Lounge was full and swinging. What came clear from the first quiet, precise intonations of the saxes on "I'm glad there is you," (Kenton started softly, testing the acoustics which were excellent), was that this might well be the best Kenton in years. Typically grandiloquent, Kenton was calling this installment "The New Era in Modern American Music." No matter. Kenton, obviously, had turned his attention back to melody and harmony, dropping the crashing dissonances and the wispy, where-are-we-now passages. The mellophonia (let's call them) were demonstrably more than a gimmick, giving the brass ensemble passages a sonorous richness that is a joy to hear.

In all, the new band is a beautiful precision device that proves again what Kenton had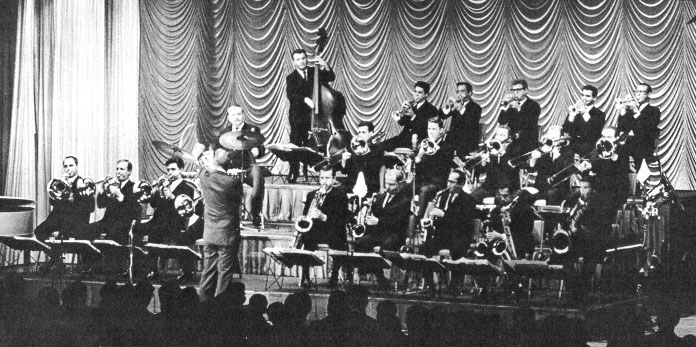 helped prove two decades ago: that a big, jazz band is not a contradiction in terms. When the Kenton Orchestra swings, as in "Rickety-Split," one of the new charts, it brings (or brought) the lounge lizards to their feet, cheering. The sidemen, except for Sam Donahue on tenor sax and Gene Roland (a long time Kenton trumpeter) on mellophonium, are relatively little known, but this is an obviously temporary phenomenon. The rhythms are intricate, the chords constantly surprising, the solo work inventive and exciting, the total effect one of driving intensity linked with restless imagination. In Vegas, the band still gave occasional sign of its newness. Tempered in the fire of a transcontinental run of one-night stands from one end of the country to another, the band by Manhattan should be a fearsome aggregation.
By all that is good and swinging', the Kenton band should be a whopping success. What it seems to be is, in effect, an editing, by Kenton, of two decades of big band Kenton, eliminating much that had been unsuccessful, preserving the best and recasting it in a richer sound than it had had before. But the band also needs to be a success. Kenton himself admits that the big bands have become a thing of the past (those who foresee their return are, he says, wishful thinking sentimentalists). He hopes that if this band is a success, it will help other big jazz bands succeed.

The success of the band will also, of course, have something to do with Kenton's own future. He has been rejecting lucrative offers to devote himself to scoring movies and television shows, preferring to espouse the cause of big band jazz. Kenton, of course, is not alone, and Ellington and Basie are still very much in business. But for all the influence Kenton has already had on American music—and ponder a moment on the Kenton alumni, from O'Day and Christy to Getz, Condoli, Rogers and Rugolo—there is good question whether he has
even yet received his due.
The time, it may well be, is now.
---